VOLADOR
VOLADOR DF50 Scuba Diving Flashlight Luminus SST70 3200 Lumens 6500K High Brightness LED Dive Torch, IPX8 Waterproof Underwater 150m 492ft Submersible Light Include 2 x 18650 Rechargeable Battery and Charger
0
stars, based on
0
reviews
Price:
€82.75€64.36 / piece
Contact Us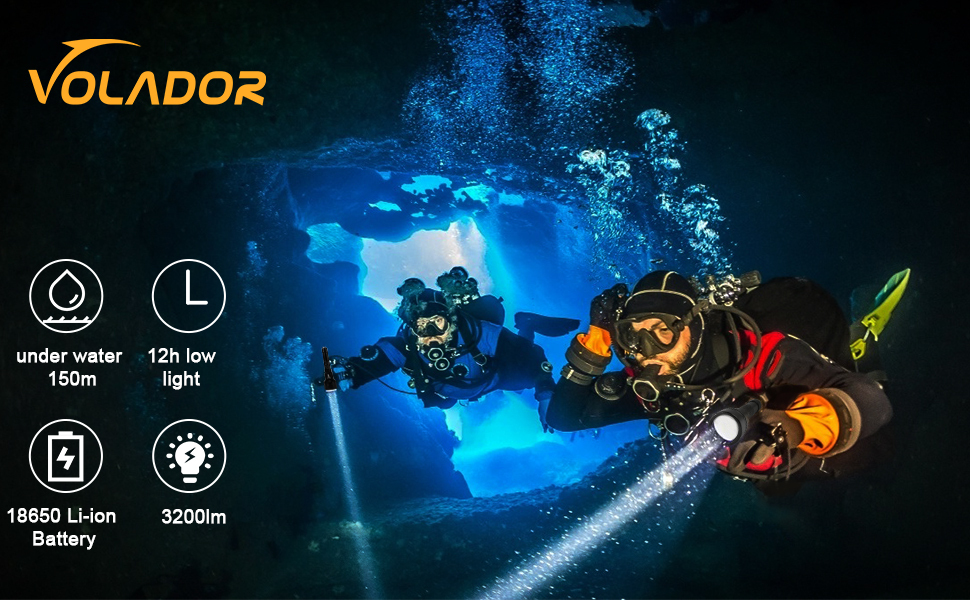 VOLADOR DF50 Diving LED Flashlight
DF50 high lumens dive flashlight is an extremely versatile, super bright, designed for the scuba diving and snorkeling enthusiast. It is mainly used for diving works, underwater fishingoperations, salvage operations underwater archaeological work, scuba diving teaching. Also it is an ideal choice for outdoor activities, such as fishing,diving, swimming, hiking, sailing, caving and seeking survival without fear of rainy days.
Key Features:
Super Bright Underwater Flashlight: Equipped with 1 Luminus SST 70 LED bulb. Max. output brightness 3200 lumens. Providing super bright 6500k neutral white light underwater. Comes with 2 x 3000mAh 18650 rechargeable battery and charger.

3 Work Lighting Mode: High>Medium>Low. DF50 diving flashlight suitable in different scenarios, such as deep underwater diving,outdoor camping etc. Max. running time reaches 3.5 hours on high, 5 hours on medium and 12 hours on low setting.

Battery Capacity Indication: It's always good to know the power status. DF50 dive flashlight indicator shows green when battery power at 100% to 30%. it turns to red when battery power at 30% to 10%. If power fall below 10%, the red light flashes, which indicates you have to turn on the back up flashlight or on your way back.

Solid Construction: Diving flashlight body is made of military-grade aviation aluminum AL-6061-T6. Abrasion and seawater corrosion resistance. The double-barrel body offers overheating protection and avoids external electrification.

150m 492ft Dive Depth: IPX-8 waterproof special sealing design and 2 O-rings ensure excellent resistance in high water pressure. This underwater flashlight can be used in maximum 150 meters underwater. Maximum lighting distance up to 320 meters.

Specification:
Body Color: Black
Light Color: White
LED Type: Luminus SST 70

LED Bulb Quantity: 1

Luminous Flux: 3200 lumens
Correlated Color Temperature : 6500k

Light Modes: high / medium / low
Beam Distance: 320m
Beam Angle: 8 degree
Material: AL-6061-T6 Aircraft-grade Aluminum Alloy Anti-Oxidation, Anti-Seawater Corrosion
Impact Resistant: 1m
Power Source: 2 x 18650 Battery ( Included )
Waterproof Level: IPX-8
Underwater Depth: 150 meters
Dimensions: Length: 15.1cm/5.96in, Head Dia.: 5.3cm/2.09in, Tube Dia.: 3.4cm/1.34in
Flashlight Net Weight: 221g / 8oz (excluding battery)

Notice: The data may vary slightly during actual use due to ddifferent batteries, user habits and envrionmental factors.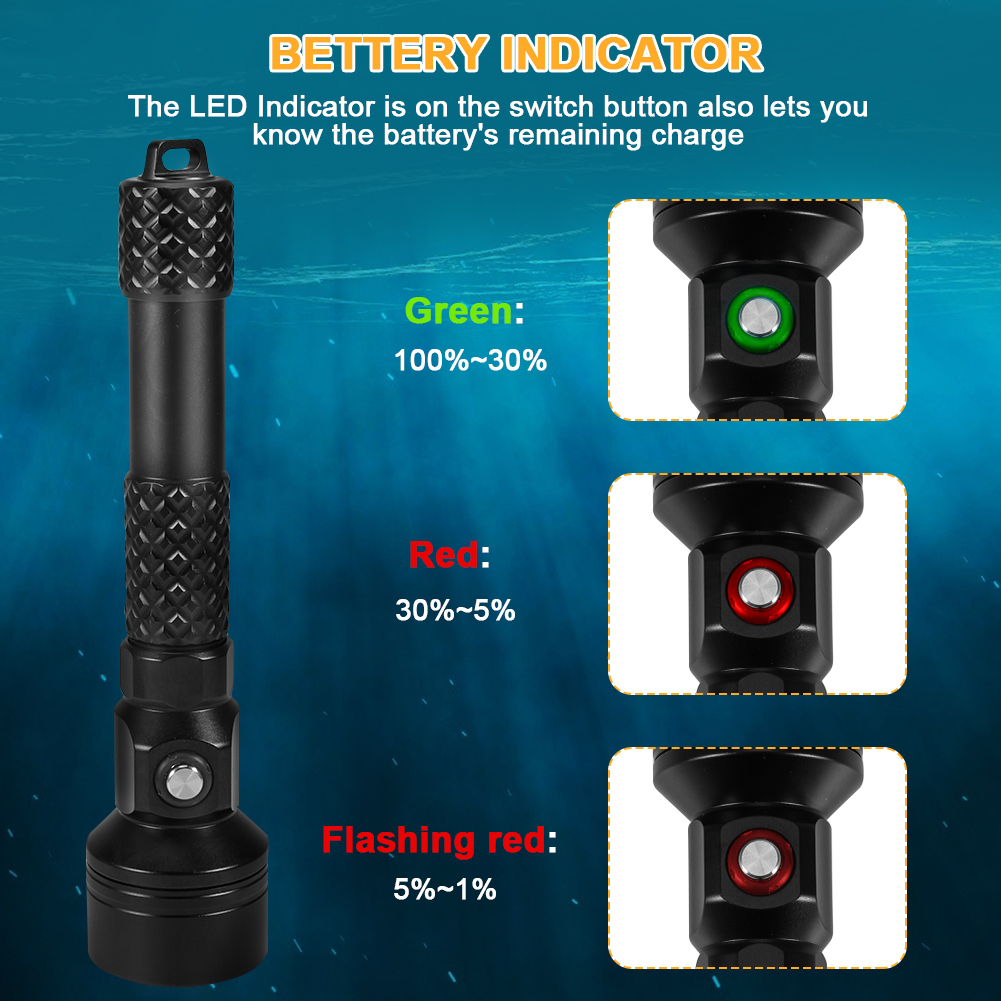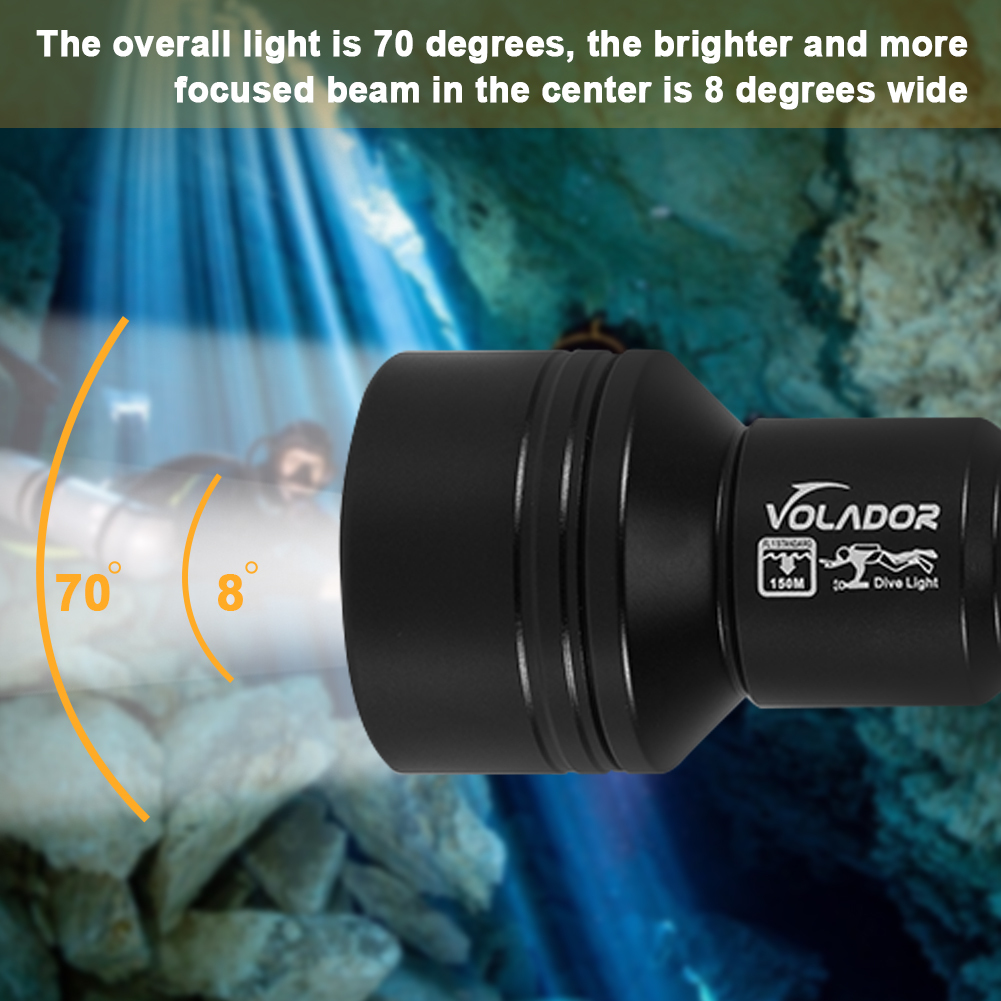 Packing List:
1 x DF50 Flashlight
2 x 18650 Battery
1 x Battery Charger
1 x USB cble
1 x Wrist strap
1 x User Manual
2 x Waterproof o-rings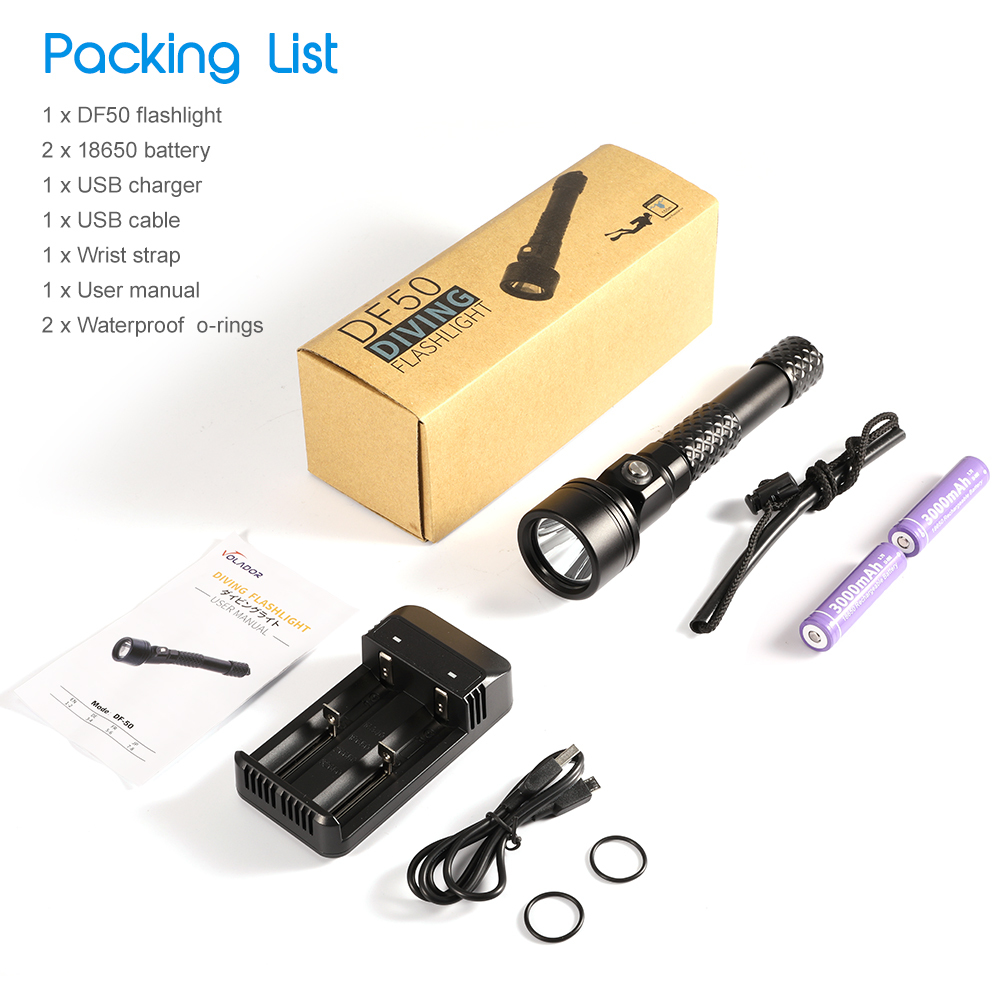 Precautions:
1. Clean the flashlight with fresh water after each diving.
2. Lubricate the switch and O-rings after each driving.
3. Don't drop the flashlight on the beach, in case the sand go into the switch.
4. Store your diving flashlight in a shady place out of direct sunlight, take out the battery if you don't use it for a long time.
5. Charge and discharge the battery every 3 months if you don't use it for a long time.