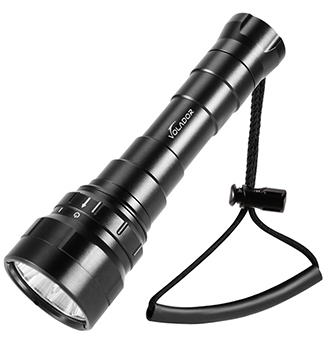 Top 5 Dive lights for murky water
Friday, 21 January 2022

0

1265

0
Top 5 Dive lights for murky water.

A diving flashlight is a small, bright light used by scuba divers for navigating the darkest places.diving flashlight underwater waterproof They have several settings for adjusting brightness, which can conserve battery life and provide sufficient illumination. A dive light also comes with a charging cable and port for rechargeable batteries. This makes it a great option for scuba divers who need to recharge their light during the night. Here are a few of the top-rated flashlights for the water:
First, determine what kind of light you need.diving flashlight underwater waterproof There are various types and wattages available, and you need to consider the amount of lumens and beam size that are required. You can also choose a diving flashlight with optional features such as SOS to communicate with other divers in case you become disoriented or in distress. Ensure that the diving flashlight is lightweight and has an overheating protection switch. Furthermore, consider how easy the diving flashlight is to use.
Among the top-rated diving flashlights is the Volador DF60, which is made for spearfishing and diving enthusiasts.diving flashlight underwater waterproof This light is waterproof up to 30 meters. Its body is made from anodized aluminum, while the white diode inside the light's body delivers a brilliant shine. DF60 Equipped with 6 x Cree XP-L2 LED bulb with a maximum output of 6000 lumen and 50,000 hours LED life span. In murky water, the beam of the DF60 provides a good view.

One of the top-rated dive flashlights is the Fenix SD20.diving flashlight underwater waterproof It has two built-in LEDs, the main LED for 1000 lumens of white light, and a second red LED for 105 lumens of illumination. The Fenix SD20 has a simpler control system. Its rotary ring helps turn on and off and allows you to change the brightness mode. The light is also protected with dual rubber seals and IPX-8.
The SeaLife SL672 is a versatile diving flashlight. It features an 850 Lumens white LED and can be powered by 3 AAs. It is also waterproof and rated highly for its reliability. Aside from being waterproof, it also has a swivel mount, which makes it easy to adjust. The SDS-S672 is another great diving flashlight. It has a wide-angle beam and a strobe feature.
The Scubapro diving flashlight has an 850 lumen beam, which is ideal for underwater photography and video shooting. The Scubapro dive flashlight is tested to 150m and can last two hours in its maximum brightness mode. Its magnetic switch makes it easy to use and offers a comfortable case and arm holder for your hand. The SDS-S1 is a good choice for snorkelers and scuba divers who need a compact, waterproof diving flashlight.
In addition to its durability, the Sofirn SD05 is a good option for a diving flashlight. This model is made from plastic, but the tail cover is made of metal. This type of diving flashlight is a good choice for 100-meter diving. In addition to waterproofing the device, it also has multiple settings. It is designed for use underwater, and it can be recharged with ease. You can also use it when swimming.
Tags:volador df60 6000 lumen diving flashlight | scuba diving flashlight